National Indigenous Day is a time for Native People to celebrate and feel pride in their cultures and accomplishments. It falls annually on June 21. The Summer Solstice is and has been a sacred time in all Native cultures. There are festivities across the country showcasing the best traditional and contemporary Native artists and performers. APTN has a live seven hour broadcast showing highlight from some of the larger events.
It's also a day for non-Native people to appreciate and recognize the original owners of the land they stand on. To recognize that all the wealth in this country comes from Indian land and resources. And to recognize some of the great contributions of Native people that revolutionized agriculture, health care, governance, and other areas of life. Corn, squash, tomatoes, potatoes, peppers, and many other vegetables were developed by Indian farmers and existed nowhere else in the world. Native Healers had plant cures for all the diseases that were present in the Americas. Much of the modern pharmacy is based on Indian plant medicines. Native governing principles developed over tens of thousands of years.  Spirituality and art evolved in a peaceful environment that allowed a high degree of personal freedom and wellbeing. The American constitution was modelled after the Iroquois Great Law of Peace.
June is Indigenous history month. There are events throughout the month, opportunities to learn about pre-contact and post contact history of Native peoples. That is a hidden history. History was rewritten to justify and enable people from other parts of the world to take Native property without payment. With the lightening of restrictions during the last few decades Native people have been researching and bring out accurate Canadian history.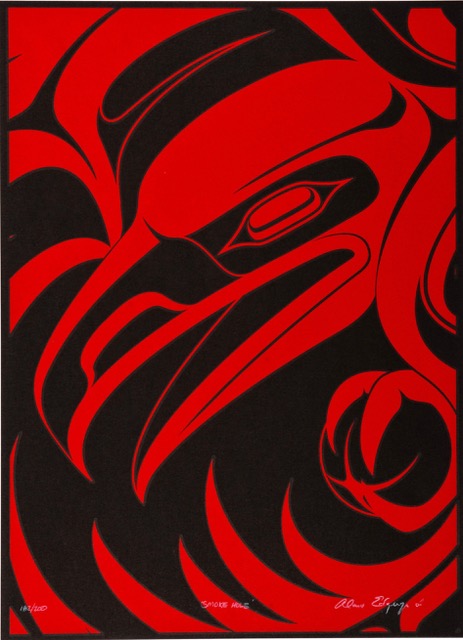 Indigenous Art: Carvings by Native People
The history of Indigenous art in Canada begins as far back as 80,000 years ago. Ancient carvings have been found in the Lower Fraser region of BC, as well as in several other parts of Canada. Art has always been a way of life for indigenous peoples, to help share and tell our stories and pass down traditions.
This print above is a creation of Indigenous artist Alano Edzerza, and depicts a raven design. Alano is a Tahltan multimedia artist and entrepreneur based in West Vancouver, British Columbia. Alano received global recognition in 2010, when he designed the outerwear for the Dutch Olympic team.
Aboriginal artists, including those we work with at Cheryl's Trading Post, use a wide variety of traditional and contemporary art material from soapstone to woodcarving, mask making, beadwork, jewelry, leather and weaving.
Take a look at our native artists' exquisite beadwork, or one of our unique hand carved native jewelry pieces. Our National Indigenous Day site-wide sale runs through the month of June. Questions? Email us at [email protected] or call 1-778-886-5090.