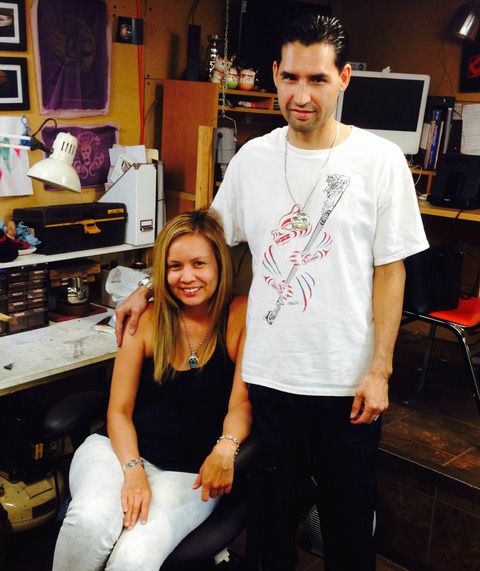 Carrie was born in 1976 in Vancouver.  She is Kwak'waka'wakw from Alert Bay and her crest is Kolus, the baby Thunderbird.  She began her apprenticeship in 1994 under her father, master artist Charles Harper.  Other major artistic influences are her uncles Douglas and Glen Harper, and Dennis and George Matilpi, all well known Northwest Coast Native Artists.  Her silver and gold engraving are characterized by deep carving and traditional design elements.
Corey is Cree.  He was born in Edmonton in 1974.  He moved to Vancouver when he was a teenager, and he's been deeply involved in Northwest Coast art and culture since then.  He works together with Carrie to produce stunning original jewelry pieces.  Cory's specialties are stone setting, gemstone carving, and repouse and chasing.
Click to view Orca bracelet with sapphire waves 
hummingbird bracelet with stones.