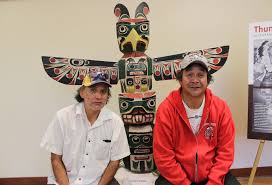 Cody Mathias grew up on the Capilano Reserve in North Vancouver, and spent his childhood watching his father and grandfather carve totem poles in his backyard. He started carving wood at the age of ten, and began selling his work at the age of fifteen. In February of 2008, Cody graduated from the Northwest Coast Jewellery Arts Program at the Native Education College in Vancouver, which was led by Kwakwaka'wakw/Haida artist, Dan Wallace.

"I'm the grandson of Chief Mathias Joe Capilano. I'm the youngest grandson and he's the one that inspired me to carve in 1968-69. When I started that's all I did: totem poles. I never carved anything else, but then I got into them more and more, and I got better at it. I started work to expand my work for other animals and sea creatures like killer whales, seals, otters. The sea of water—all sea animals I like to carve but the most powerful is what we call the yew'yews, the killer whale. And land has even more powerful animals, and the bear is the strongest one—we call it mixalht. Then there's the wolf pack—they are family oriented, hunt in packs, keep the family together, and feed the family. When they come back after the hunt they bring food for the young ones. All these animals are from here, and they need to eat and be healthy too." – Cody Mathias
Click to view plaques, Totem poles, and model totem poles by Cody Mathias.