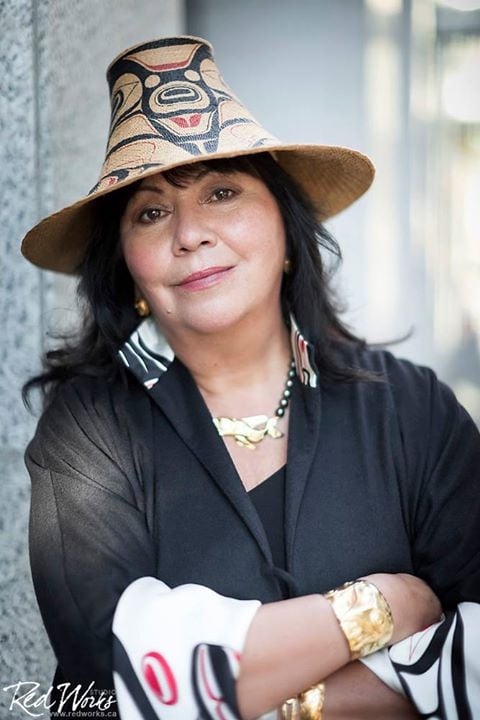 This year (2016) marks 30 years of my career as a fashion designer.  My first outfit "the Raven Creation Tunic, debut at a potlatch at the "Big House Haida Feast" at Expo 1986 Vancouver BC.  This piece was acquired by National History Museum of Canada.  The current milestone was this February 2016 my  "Eagle Raven tuxedo" worn by actor, Duane E. Howard at the Oscars Red Carpet with  global tv coverage.  I can't even find the words that describe how I felt when I saw that!  It was 30 years of emotions and memories, and it still overwhelms me.
I can hear my grandmother's voice telling us as children to be humble, be respectful of others, and always know where you come from.  She was talking about Yaagudaang…  This has been like a ballast that has grounded me. For 30  years, I've received great pleasure in designing clothing that make people feel proud of themselves and their accomplishment, sometimes the words transformational, feeling taller, stronger, prouder… I know this as my greatest achievement. I know my place in this world is about  "Yaagudaang" a Haida word for "respect of one's self".
I am planning to write a book about all my journeys over these past 30 years as I believe my experiences will be helpful to youth entrepreneurs and aspiring designers. I have been on the "road less traveled".  In reflecting back, I see that I did create a pathway.  The journey has been full of challenges, fears and many successes and yes even failures. But I never sold out my work for lesser quality or an easier path. I have stayed true to Haida form line art in applying it to cloth….I broke new ground.
I am pleased at the outcome as several thousand garments have gone through my hands and have had my final approval. Fashion is like a fast moving large vehicle, one has to be in the drivers seat, it always changes, you have to move with it,  so as I move into 2016 I have created new handbags and accessories and I will have new "Raven come full Circle" fabric where I will make some new dresses, and jackets. Watch for new jewelry to come soon. 
Click to view Accessories by Dorothy Grant.