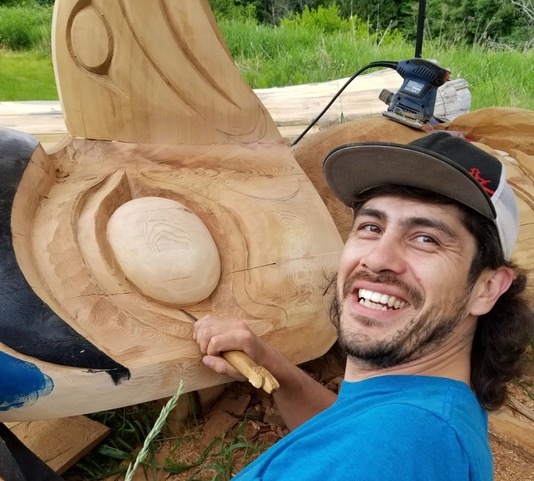 Joel Good is a traditional Coast Salish Artist, from the Snuneymuxw (Nanaimo) First Nation. He has been carving in the Coast Salish style to engage his passion for this rare, traditional art form that is now gaining in popularity. He works in the original Coast Salish style, one that has been revitalized by his Father and Mentor, Master Carver and Historian, William Good. All of Joel's designs are derived from the traditional legends taught to him and through extensive research into the original archived style. Another significant source of inspiration is his Mother, Artist and Painter, Sandra Moorhouse-Good, who herself had been trained as a classical painter by her Grandfather, Herbert Moorhouse. 
 As a child, Joel grew up in an Art Studio where his parents produced and sold art work, and provided for their large combined family. They had stations for many art forms, including painting, printmaking, pottery, and carving.  Among many other media, Joel practiced sketching where he learned the importance of accurate design. As a teenager, his parents ran a successful wholesale and retail art business where they produced a line of Coast Salish clothing and jewellery under the name of "Ay Ay Mut". Although his teachings were broadened to have a greater understanding of art in multi-media, he made the decision upon embarking onto his art quest to practice the traditional Coast Salish style.  
 Joel  carves in red and yellow cedar, and mixes his paints in the traditional Coast Salish colors (black, white, red, yellow and teal). He bends his own steam-bent boxes in the customary style of his tribe.  Joel's art work is the perfect combination of his traditional Coast Salish roots and his family's classical painting origin. He uses all of his influences to have his own unique traditional style, which blends the teachings of both of his parents. He combines accuracy, passion, and  inspiration to create every masterpiece. 
 Throughout his career, Joel has had works commissioned by The city of Nanaimo, including a Spindle Whorl and Dancing Eagle panel, BC Hydro, The Canadian Museum for Human Rights, The Nanaimo Aboriginal Centre, Snuneymuxw First Nation, as well as numerous other organizations. In June, 2018, Joel had two Coast Salish House Post Totem Poles erected in Departure Bay, Nanaimo, B.C,, carved with his Father William. He also creates works of art for private collectors as well as provides artwork for his sisters for Ay Lelum-The Good House of Design.