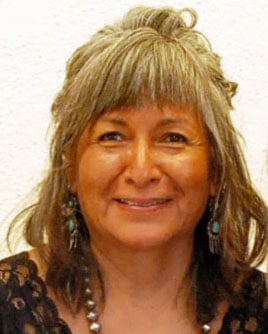 Kathleen Sanchez, She-u-tani, was born and raised in San Felipe Pueblo. She is a designer of jewelry and turquoise. Most of her designs are inspired by and based on her Pueblo heritage.
"Family, friends and my Pueblo are very important to me, " she says. She has a huge extended family in the Pueblo, including close brothers and sisters, nieces and nephews. She has two grown children and three grandkids. "I participate in the Pueblo culture and dances. I am very happy when my family is part of this too."
Kathleen graduated from the University of New Mexico with a B.A. in American Studies and a minor in German.  She has been creating Southwestern jewelry for over 30 years.