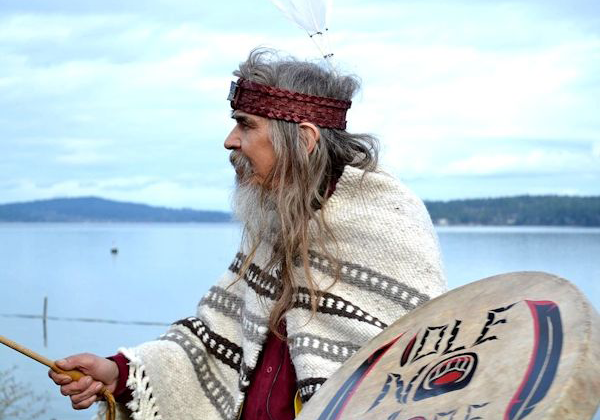 Beau Dick was born in Alert Bay, BC, a remote Kwakwaka'wakw village north of Vancouver Island.  His people had resisted the potlatch laws by going underground for almost a century.  This resulted in a wealth of cultural experience for Beau to draw from.  He was heavily influenced by the traditional carving work of both his grandfather and father, whom he assisted in carving one of the world's tallest totem poles in Alert Bay, BC.  At age 17 he was asked to apprentice under artist Tony Hunt in Victoria, BC. Then he moved to Vancouver and continued to hone his carving techniques under the influence of Doug Cranmer.
In 1972, Beau contributed two masks to 'The Legacy Exhibition' which was hosted by the Royal British Columbia Museum in Victoria. In 1986, he was commissioned to carve a mask to be showcased in Expo '86, held in Vancouver.  The piece was subsequently placed in the Canadian Museum of Civilization in Hull, Quebec where it remains on display.  In 1998, he was one of only seven Canadian artists to be invited to the reopening of Canada House in London, England, in the presence of Prime Minister Jean Chretien and Queen Elizabeth II.
Recently, his work has been featured in a number of international exhibitions, helping introduce his pieces to a more contemporary audience.  Beau's work was featured alongside that of artist Neil Campbell in the 2004 exhibition "Supernatural - Beau Dick and Neil Campbell" at the Contemporary Art Gallery in Vancouver, followed by the 2005 "Totems to Turquoise" exhibit in both New York and Vancouver.  In 2009, the McMichael Canadian Art Collection showcased Beau's work in their exhibit entitled "Challenging Traditions: Contemporary First Nations Art of the Northwest Coast".  2010 saw Beau invited to display his art at the 17th Biennale of Sydney in Sydney, Australia.   In 2013 his work was displayed in the summer exhibition at the National Gallery of Canada in Ottawa.
On February 10, 2013, Beau performed a traditional copper-cutting ceremony on the steps of the BC Legislature in Victoria in conjunction with a variety of activists, including local members of Idle No More. Having embarked on a 10-day, 500 km walk from Alert Bay to Victoria, the gesture was intended to bring attention to the environment and to challenge elected officials to attend to the relationship between the federal government and First Nations People.  In July 2014, they travelled to Ottawa and repeated the cermony on parliament hill. 
In 2016, the Belkin Gallery exhibited 'Lalakenis / All Directions, a Journey of Truth and Unity', which documented the journey through videos, photographs and narrative, and also brought together masks and other sacred objects that accompanied them. 
During March 2017, Beau passed into the spirit world.  At the time he was the 'artist in residence' at UBC. 
Beau Dick was a great storyteller and dancer.  He is thought of as one of the greatest artists since contact.
Click to view Beau's Sisiutl limited edition print available from our online store