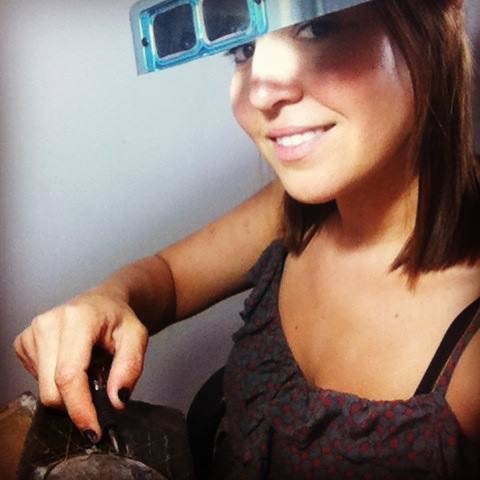 SHARIFAH MARSDEN: A multifaceted Anishinaabe artist from the Mississaugas of Scugog Island First Nation, Ontario. Sharifah Marsden draws from her knowledge of the Woodlands Style of Art, Traditional Beadwork and Weaving, creating unique works of acrylic paintings, beadwork and engraved jewelry.  
Her jewelry experience consists of graduating from the Northwest Coast Jewelry Program at The Native Education College (NEC) 2010, Graduating the Goldsmithing Program at Vancouver Metal Arts 2015. Then assistant teaching the jewelry program at the Native Education College In 2017, to Instructor in 2018.
In 2010, Sharifah worked with artists Richard Tetrault, Richard Shorty and Jerry Whitehead, on Western Canada's largest mural "Eye of the Raven." She has collaborated on a variety of murals including "Honoring Our Women" for the Native Education College in 2016, "Unconditional Love" for the Vancouver Mural festival in 2017, and the "Memorial Starblanket," a mural honoring those we lost from opioid addiction in the DTES in 2017. 
Most recently, Sharifah has been commissioned to create the mural in Justice Institute of BC, as well as exhibited her "Motherhood" series at the Georgia Studios (C3) in Vancouver, BC.