Argillite jewelry and argillite carvings produced by the Haida people on Haida Gwaii depict West Coast First Nations imagery in a beautiful black slate material that cannot be found anywhere else in the world.

What is Argillite?
Argillite that the Haida use for argillite carvings and jewelry can be found in a quarry on Slatechuck Mountain near the town of Skidegate, on the east central coast of this amazing and beautiful island archipelago off the west coast of Canada. The land and quarry are owned by the Haida Nation who hold proprietary ownership.
Argillite from the Haida quarry is a hard, fine, black silt, sometimes referred to as "black slate" that is unique to Haida Gwaii and can be found nowhere else in the world. Argillite is a sedimentary rock that started as a clay like material. When it was exposed to very high temperatures 80 million years ago, it strengthened and solidified. This process created a fine stone that is perfect for carving. An argillite carver can create works of art that have very fine details, by working with the layers in the argillite.
The Haida word for argillite is Kwawhlhal.
Argillite Carvings
The argillite carvings by the Haida people are of high quality and have been highly prized around the world since Haida carvers first began selling their carvings to sailors from Europe around 1800. Contemporary Haida carvers continue the tradition of creating argillite carvings and sculptures, many of whom are internationally known and recognized for their work.
At Cheryl's Trading Post we are proud to offer authentic Haida argillite jewelry, pendants and carvings from Calvin Bell, Lionel Dexter Samuels, and Andrew Williams.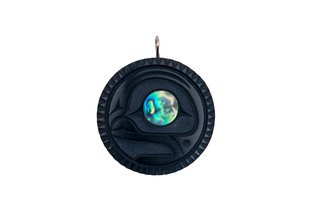 Calvin Bell - Haida Artist
Calvin Bell is an Haida artist that maintains the traditional old style of argillite carving. A member of the Haida Nation, born in Masset, Haida Gwaii in 1950, Calvin's family crests are the Two-Finned Orca and the Grizzly Bear.
Calvin began carving in 1971 after being introduced to the art form by Haida master carver Ron Russ. His carvings include sculptures and jewelry from argillite, gold and silver that feature traditional Haida designs. Calvin's expertise is evident in each native art piece he creates, his depth of carving, precise inlay, and flawless finish make his work widely collected.
Shop for argillite jewelry by Calvin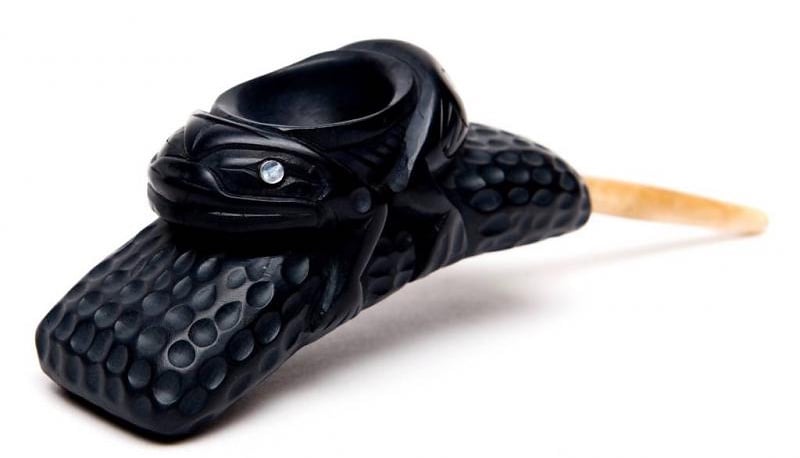 Lionel Dexter Samuels - Haida Artist

Lionel Dexter Samuels was born into the Yahgu 'laanaas Raven clan on Haida Gwaii in 1963 and began carving with the guidance of George Yeltache when he was just seven years old.
At the age of twenty Lionel began sculpting argillite professionally and featuring his work in major galleries. Lionel's argillite works are incredibly sculpted with carefully incised designs featuring Haida mythological and spiritual creatures inspired by his ancestors and the Haida stories of his Grandparents. His carvings include large figures, totem poles, pendants, earrings, pipes, and boxes, which are eagerly sought after by collectors from around the globe.
Lionel passed away from covid 19 during 2021.
Shop for Haida Argillite Carvings by Lionel Dexter Samuels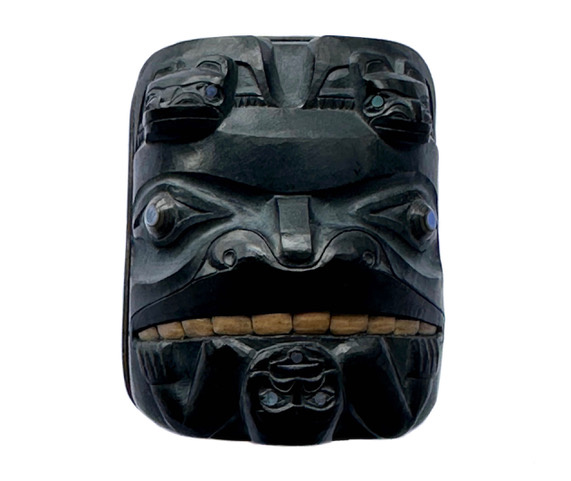 Andrew Williams - Haida Artist
Andrew Williams is Haida. He was born in 1964 in Old Masset.  He expresses pride in his culture by illustrating Haida stories with his art.
He has been creating carvings and jewelry using argillite, silver, gold, and other natural materials since 1995.  In 1999, Andrew took a shaping course with Gary Minaker-Russ, and a jewelry arts program with Dan Wallace in 2009. 
Andrew has evolved into a full-time professional artist.  His work steadily improves.  Look forward to his future work as well as his present.
View argillite pendants by Andrew
Questions about Haida argillite carvings or jewelry?
If you would like more information about the argillite art pieces that we have in stock, or would like to place a custom order, please contact Cheryl's Trading Post.
To learn about how to care for argillite artworks click here.